WINE CELLAR open from monday to friday – from 9am to 5pm
From now, we welcome you at our new wine cellar situated at 568, chemin de la beaumette 84190 GIGONDAS.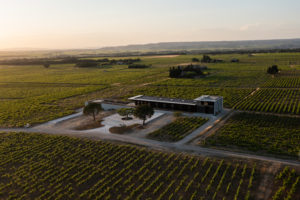 Domaine de Piéblanc was established in 2014 by Matthieu Ponson who has become a winemaker through passion for wine.
Now established at the foothill of the village of Gigondas and the Dentelles de Montmirail from May 2022, we welcome you in a functional and gravitational brand new wine cellar with contemporary architecture.
The vineyard is composed of 10 hectares of AOC Ventoux vines in altitude at the foot of the Mont Ventoux surrounded by pines and olive trees. A few kilometers away, still in altitude
at Suzette in the midst of preserved nature, 15 hectares of AOC Beaumes de
Venise vines then 6 hectares of AOC
Gigondas vines – located on the eminent land
of wine ! In 2021, 7 hectares of AOC Côtes-du-Rhône vines come and complement Domaine de
Piéblanc's vineyard.
Domaine de Piéblanc, it's also hundreds of olive trees which enable us to make our own olive oil every year.
Matthieu Ponson believe in the respect of nature and environment. That's why he has early converted his whole vineyard to organic production. The 2020 vintage become the first vintage certified organic with the « AB » label (organic agriculture).